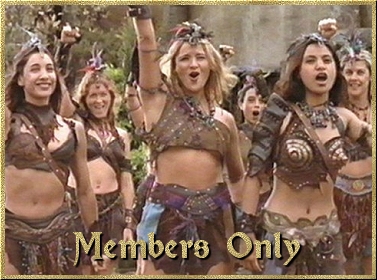 In this special Members Only section, you will find things BY & FOR our Amazon Tribe. Only our members are allowed in here!
Please know everything here is made especially with YOU in mind - now, parakalo, enjoy the offerings!
Want to contribute? Send your offering to Deoris!

Special Tribe Information
Join the Forum.
Find your totem.
View Themiscyra and surrounding areas.
View pictures of what Amazon life might look like.
The Amazon language.
Amazon Avatars
A fun way to spend an afternoon.
Help the tribe improve with our anonymous suggestion box.

GRAPHICS PAGES
Themiscyra Banners for your pages!
Show your Amazon pride!
Xena & Hercules Screen Captures with an Amazon-bent! Avatar Bases!
Fun Graphics
Dress up your site with a splashy Amazon graphic!
Page 1 - Page 2 - Willow's Page - Icons

Themiscyra Anniversary Celebrations
Celebrate Themiscyra through the years!
Year 4 - Year 5 - Year 6 - Year 7 -
Year 8 - Year 9 - YEAR 10 - Year 11 - Year 12 -
Anniversary Montages by Deoris
Year 4 - Year 6 - Year 7 - Year 8 - Year 9 - Year 10 - Year 11

Calendars
Calendars 2014
Calendars 2013
January - February - March - April - May - June - August
Archive Calendars

Amazon Archive Forums
You should first enter your name and password, which are personal to each individual. Then you need to enter the tribal password, which is the same you used to enter the Members Area.
Network 54 Forums, where we began as a tribe. Archive only. There is no password required to view either forum.

PSP 7 Graphics Program
Please do not share the link with anyone outside the tribe.
You will find some basic PSP7 tutorials HERE.

Other Information